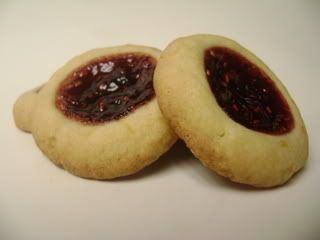 I went to a very fun cookie exchange party last night!
I made Thumbprint Cookies (I got the recipe from the Samantha, the American Girl, cookbook) to share and thankfully, I was the only one who made these.
There were 75 ladies there and we also did a white elephant gift exchange. This was hilarious! You get to take from others what you want but people can also take from you. I ended up with a nice handmade scarf. I almost got a Pampered Chef casserole dish but it was a h0t item.
Anyway, I came home with 2 dozen (plus) homemade cookies of various kinds. My favorite so far has been a Cappuccino Crisp! Wow! These taste and smell yummy!